​
​Announcing the
TOY GUNS DANCE THEATRE

2017 / 2018
Season of Shows!
​
| | |
| --- | --- |
| Toy Guns Dance Theatre's Artistic Director and CEO, Jake W Hastey, is proud to announce the company's 4-show season. The season will open on July 15th with the FREE Dancing in the Park festival, a new summer festival to celebrate and support Edmonton's robust dance community. ​For more information on the new season line-up, and season pass purchasing, see below. | |
2017 / 2018 SEASON


May 2018
​...Words I Don't Understand, Like Love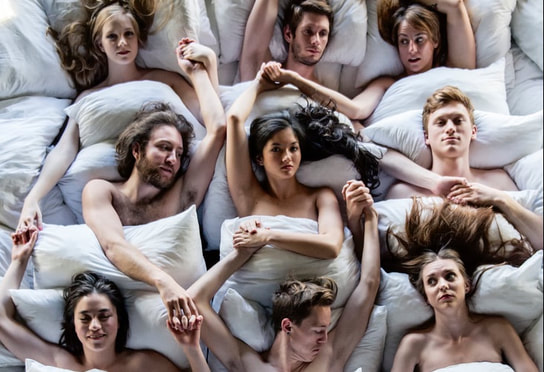 For the first time ever, you can now buy a
TOY GUNS DANCE THEATRE SEASON PASS!
(Individual Show ticket sales will be available soon.)
*Discounted Season Pass available to
​Toy Guns Dance Theatre Members
(Membership page)
,
Seniors, and Students with valid student ID.
​ID for verification will be required at the first use of the season pass.
Fortuitous Endings
What To Do When You Wake Up Drunk In A BBQ Cover In Your Neighbour's Backyard
​
Returning to Edmonton audiences in October, the inaugural Jake W Hastey piece that launched Toy Guns Dance Theatre into existence will be re-envisioned and brought to life with our full professional company!

Once compared to watching a car accident while riding a camel on a busy street in San Francisco but the chairs are more comfortable and there is no paper work required, Fortuitous Endings...first premiered at the Canoe Festival in January 2015, presented by our good friends at Workshop West (They also have a season of amazing shows!). This show is an exploration of the moment near the end of a relationship, when you stop telling your friends the whole truth. Humour and impressive physical theatre work by the "awe-inspiring" dancer/actors, combined with the "endlessly creative" mind of Artistic Director Jake W Hastey, will accompany you on a tragic and comedic journey to the demise of a once passionate love.

Featuring original music, performed live by Must Be Tuesday.

ATB Financial Arts Barns
​Westbury Theatre
Performances: Preview Oct 4, Shows Oct 5,6, 7 @ 7:30 pm

Tickets currently on sale as part of the Toy Guns Dance Theatre 2017/18 Season Pass
​


What Colour (Color) Is Your Dress?

What Colour (Color) Is Your Dress? follows a fantastically charming young woman into the afterlife, where she discovers the danger of assumptions. Featuring an incredible cast, including Christine Lesiak and Chris Bullough, this show will challenge your assumptions about life, death, and the physical capacity of the performers of Toy Guns Dance Theatre. The production was born out of a crippling fear of death and an existential crisis in the Fall of 2015. This world premiere production will bring together a new design team, as well as a soundscape punctuated by the revered work of Spanish classical guitar composer Francisco Tarrega.

ATB Financial Arts Barns
​Westbury Theatre
Performances: Preview Jan 17, Shows Jan 18, 19, 20 @ 7:30 pm & Jan 21 @ 2 pm

Follow Toy Guns on social media and you will experience an entry into the world of this show, though a unique series of graphic novel style comedic episodes!

Tickets currently on sale as part of the Toy Guns Dance Theatre 2017/18 Season Passes
Propylene Glycol, Maltodextrin, Retinol Palmitate, and other
Words I Don't Understand Like Love

​★★★★★ Edmonton Journal, Held-over at the 2015 Edmonton Fringe Festival!
"The choreography is both accessible and WTF? — but in only the very best way."

Do you remember breakfast cereal before we read labels?
Do you remember love before you experienced loss?
...Words I Don't Understand Like Love explores loss - loss of love, loss of illusions, loss of inhibitions - but this is not an angst-y and depressing piece of theatre; it is an attempt to find joy in the worst week of your life. Join us on an adventure involving 300 pillows and a bowl of cereal, as we journey through a dream-scape that will make you question everything you've ever done with the piece of machinery between your legs.
​
ATB Financial Arts Barns
​Westbury Theatre
Performances: Preview May 16, shows May 17, 18, 19 @ 7:30 pm

Tickets currently on sale as part of the Toy Guns Dance Theatre 2017/18 Season Passes