Graffiti House & Fundraisers
---
Graffiti House, House Call!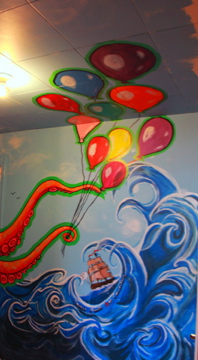 Toy Guns inaugural graffiti art house project brought together 43 Edmonton artists who created 23 competitive art works in a Millcreek House. See our re-cap video and gallery below!
With 600 guests, over $1000 in prizes, and national media coverage. This amazing event helped launch Toy Guns Dance Theatre, voted Edmonton's Best Dance Company two years running (Vue Magazine 2014, 2015). It's time for Graffiti Art House II.
Toy Guns needs your help!! We would love to create a second Graffiti Art House, but we need to find a venue to transform into this living art gallery! Please help us search for a venue to bring together Edmonton's brightest visual artists to take part in an amazing community art project!!
If you or someone you know has a house due for demolishing or perhaps you are just a crazy person looking for a graffiti art renovation. Let's chat about making something beautiful!!
Email
Jake@toygunstheatre.com
if you have a lead!
---
2014 Graffiti Art House hosted by Toy Guns Dance Theatre
---
Gallery of Competing Walls in the 2014 Graffiti Art House Competition